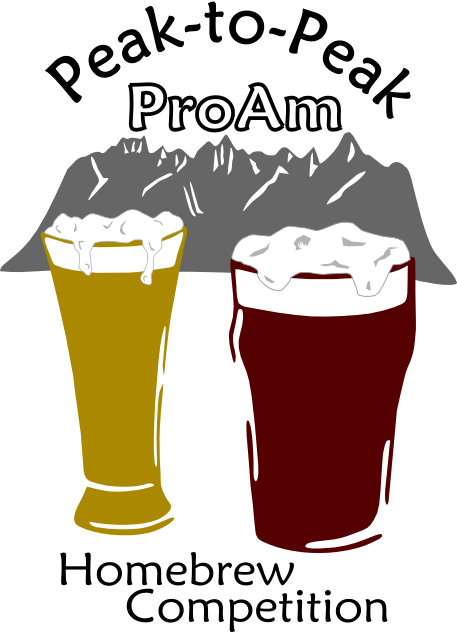 Information:
The 2023 Peak to Peak Pro-Am homebrew competition will be held March 11th, with all in-person judging, Best of Show, ProAM and Awards Ceremony. All beer categories in the 2021 BJCP Beer Style Guide(categories 1-34), including any new experimental beer styles, will be accepted. Each entry is $8 payable via PayPal and two 12-oz bottles per entry are required. For further information email consult our rules or email johnmarcjohnmarc@me.com.
Rules
Full competition rules are available here.
Pro-Am Rule Reminders
• If you accept a ProAm after entering our competition, please let the organizer know
• "The homebrewer brewing their recipe with the professional brewery CANNOT be, or have ever been, […] on the brewing staff, which includes employees involved in the brewing process or brewing production (e.g. brewer, lab technician, cellar crew, quality control, etc.) at any brewery." Review the GABF ProAm Rules for complete eligibility details
ProAm Breweries
• Left Hand Brewing
• Mirror Image Brewing
• Kokopelli Beer Company
• Cellar West Artisan Ales
• Pump House Brewery
Additional Pro-Am breweries to be added as more sign-up.
Awards Ceremony
March 11th, 6PM @ Outworld Brewing
1725 Vista View Dr.
Longmont, CO
Need to be present to claim your prize, but we will ship your medal.
Registration:
All registrations will be submitted via Reggie starting in February. Entries will be accepted between January 1st and March 2nd, judges can register during the same time.
Entry Drop Off:
Drop-offs will be accepted through close of business March 2nd. Please make sure to clearly identify entries as Peak-to-Peak Pro-Am (P2P) since many locations are drop-offs for several area competitions.
| | |
| --- | --- |
| Outworld Brewing | 1725 Vista View Dr, Longmont, CO |
| John Marc Home | See Reggie for address |
| Quirky Homebrew Supply | 425 W 115th Ave #6, Northglenn, CO 80234 |
| The Brew Hut | 15120 E Hampden Ave, Aurora, CO 80014 |
| Boulder Fermentation Supply | 2510 47th St., Boulder, CO 80301 |
| The Bald Brewer | 651 8th Avenue, Longmont, CO 80501 |